Breadboards are used to build temporary circuits with components in order to test them out, or to just learn more about those circuits and to practice building them.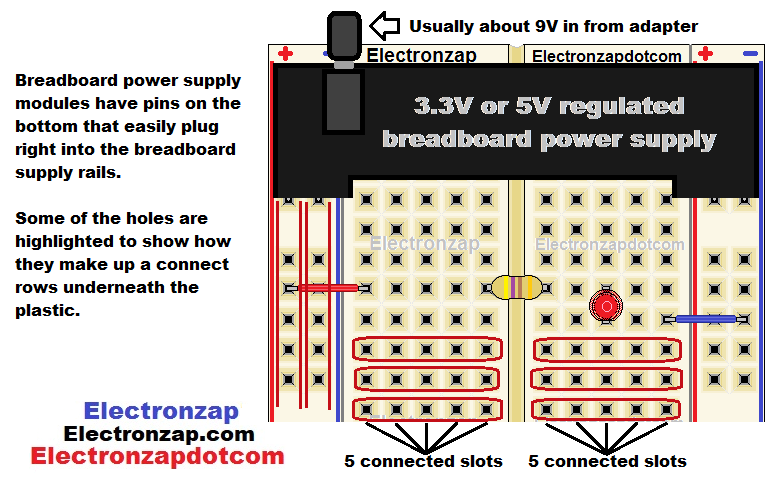 Supply rails:
Both the left and right sides of the breadboard have 2 rows of holes that go from the top of the board to the bottom of the board. Each row of holes has all of it's holes electrically connected on most breadboards. If you plug a wire or component lead into one of the holes of a row, it will be electrically connected to any other wires or leads plugged into the same row.   There is usually a red line next to one row, and a blue line next to the other row. Most people connected the positive side of the power supply to the red row, and the negative side of the power supply to the blue line row. A breadboard power supply module automatically applies power to those rows on both sides of the breadboard in that way.
Middle rows:
Between the supply rails, there are 2 areas where there are a bunch of 5 holes across.  The 5  holes are all connected together. Then there's a grove that separates those 5 slots from the 5 slots on the other side. All the way up and down the breadboard are separate 5 hole rows. A wire or component lead that is plugged into one hole will connect electrically to a wire or component lead that is plugged into any of the 4 other holes of the same row. The other rows of 5 holes, are not connected to each other.
Links to next topics:
555 timer. I believe will be most fun to learn about next. Page will be created later. Or you can check out
Op amps. Can make all kinds of practical circuits especially when combined. Page will be created later. Or you can check out 
 To support this site, check out the following links:
Information on this site is not guaranteed to be accurate. Always consult the manufacturer info/datasheet of parts you use. Research the proper safety precautions for everything you do.
Electronzap is a participant in the Amazon Services LLC Associates Program, an affiliate advertising program designed to provide a means for sites to earn advertising fees by advertising and linking to amazon.com.