LEDs and other diodes need extra protection when connected in parallel.
You want to give each LED it's own protective resistor or current source.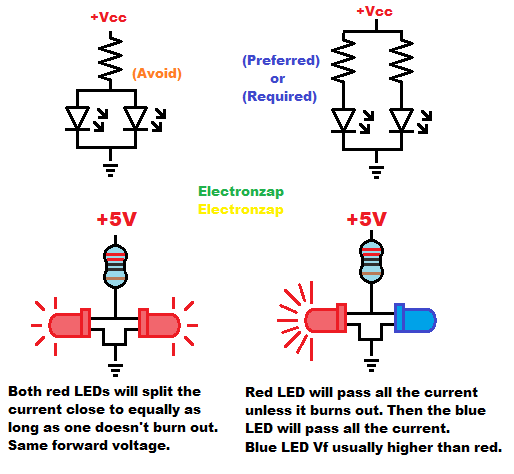 In fact, you may need to give each LED it's own resistor to prevent one or more from not lighting up at all, and/or from burning out due to too much current that was intended to be divided up among the parallel LEDs.
Learning electronics and arduino kit I really like. An affiliate link ad.
Even if the LEDs have the same forward voltage, one LED may conduct slightly better than another parallel LED. Therefore one LED can easily get more current than the other.
If the parallel LEDs have different forward voltages, then the LED with the lowest forward voltage will definitely get all of the current.
You simply wire each LED and protective resistor as if the others don't exist. Just remember that the power supply, and any components in series with the parallel LEDs with protective resistors, needs to be able to handle the total current involved.
 To support this site, check out the following links:
Information on this site is not guaranteed to be accurate. Always consult the manufacturer info/datasheet of parts you use. Research the proper safety precautions for everything you do.
Electronzap is a participant in the Amazon Services LLC Associates Program, an affiliate advertising program designed to provide a means for sites to earn advertising fees by advertising and linking to amazon.com.