PNP Bipolar Junction Transistors (BJTs) wired as Emitter Followers have an output voltage that will be approx. 0.6V higher than the input voltage. The circuit can also be called a PNP Common Collector, or a PNP BJT voltage follower.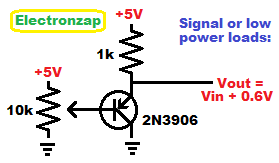 The PNP Emitter is connected to the positive supply through a resistor when wired as an emitter follower. If no current is demanded of the output (no load and PNP BJT is off), then the voltage at the Emitter will be the supply voltage (5V in the example circuit).
When the voltage at the base is lower than the emitter by about 0.6V or more, then current will flow from Emitter to Base. Many times that amount of current will flow from Emitter to Collector. Ultimately, the amount of current that flows will set the Emitter current to 0.6V higher than the Base voltage.
The Vcc (positive supply voltage) to Emitter resistor limits current through the transistor. Adding a load to the output, means that any current flowing through load has to flow through the Emitter resistor. That is assuming that the load heads to ground, which it usually does.
If you want to power a significant load, then you should have it between Vcc and the emitter. The voltage across the load will be the difference between Vcc and the voltage at the emitter. The current will flow through the load, and the through the transistor.
Good topics to check out next:
 To support this site, check out the following links:
Information on this site is not guaranteed to be accurate. Always consult the manufacturer info/datasheet of parts you use. Research the proper safety precautions for everything you do.
Electronzap is a participant in the Amazon Services LLC Associates Program, an affiliate advertising program designed to provide a means for sites to earn advertising fees by advertising and linking to amazon.com.