There's 5 LEDs in this circuit. Only one LED is lit at a time. First One of the end LEDs is lit up, then the one next to it, then the next one, and so on until the LED at the other end is lit up. The end LED is lit for twice as long as the middle LEDs. Then the one that was lit of before, lights up again, and then the next one, and so on until the other end LED is lit up. That end LED is now also lit up for twice as long as the middle LEDs, and the process keeps repeating for as long as power is applied.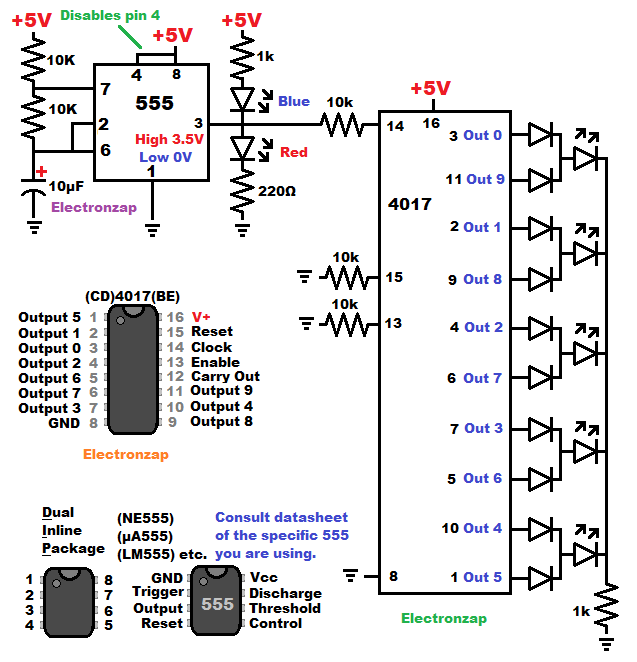 All LEDs in this circuit are connected to 2 outputs, which means that every output needs a series diode. Since only one output is high at a time, that means that all the other outputs are low. That would be a short circuit between the high output and 1 or more low outputs if they were connected directly together. Therefore, each output has it's own diode.
The 2 end LEDs stay lit twice as long as the center LEDs. But, the end LEDs light up only once per cycle, whereas the center ones light up twice per cycle. Therefore, each LED is lit for the same amount of time each cycle in this circuit.
Good topics to check out next:
 To support this site, check out the following links:
Information on this site is not guaranteed to be accurate. Always consult the manufacturer info/datasheet of parts you use. Research the proper safety precautions for everything you do.
Electronzap is a participant in the Amazon Services LLC Associates Program, an affiliate advertising program designed to provide a means for sites to earn advertising fees by advertising and linking to amazon.com.