When you need a bipolar junction transistor (BJT), but it has to have a lot more gain than the average BJT, then you can double them up for a multiple amount of gain. That is called a Darlington pair. You can wire up a couple BJTs yourself, or use a Darlington Transistor where the chemistry for both transistors is built into one transistor package.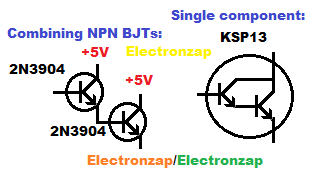 In order to turn the Darlington transistor on, the current through Base to Emitter of the first transistor, also has to flow through the second transistor. That means that the Base current needs to exceed approx. 1.4V. That's because both Base to Emitters drops approx. 0.7V.
Once current flows through the first Base to Emitter, that first transistor turns on. which means that it puts a lot more current through the Base to Emitter of the second transistor. If the transistors have a gain of 100, then the first transistor will put about 100 times more current through the second transistor's Base to Emitter. If the second transistor also has a gain of 100, it will let 100 x 100 = 10,000 times as much current to flow through the second Collector as what is flowing through both Base to Emitters.
Links to good topics to check out next.
 To support this site, check out the following links:
Information on this site is not guaranteed to be accurate. Always consult the manufacturer info/datasheet of parts you use. Research the proper safety precautions for everything you do.
Electronzap is a participant in the Amazon Services LLC Associates Program, an affiliate advertising program designed to provide a means for sites to earn advertising fees by advertising and linking to amazon.com.