One option for a Knight Rider chaser circuit is to have a series of LEDs that light up one at a time, from one end to the other, and then lighting up one at a time back to the original LED. Repeating the process over and over again.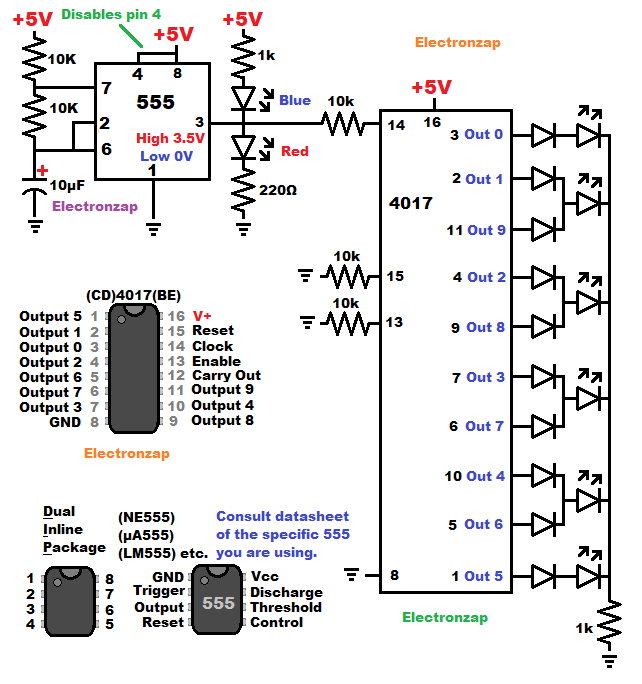 The 2 end LEDs only light up once per cycle. So, they only have 1 output connected to them. A diode has been added between those 2 outputs and the LED because all of the other LEDs have LEDs between them and their outputs. So, all LEDs will have the same voltage across them, and therefore will be the same brightness as long as they are the same color and have the same history of being lit up.
The 4 center LEDs light up twice per cycle as they each have 2 outputs powering them. When one output is high, then all the rest are low, meaning that 2 outputs connected together will short circuit when one is high. The diodes prevent that by happening, by making sure that the output only conducts while it is high, while the diode prevents it from conducting when it is low.
Good topics to check out next:
 To support this site, check out the following links:
Information on this site is not guaranteed to be accurate. Always consult the manufacturer info/datasheet of parts you use. Research the proper safety precautions for everything you do.
Electronzap is a participant in the Amazon Services LLC Associates Program, an affiliate advertising program designed to provide a means for sites to earn advertising fees by advertising and linking to amazon.com.