A capacitor can keep proving a little Base current to a PNP Bipolar Junction Transistor (BJT) for a short period of time after the signal voltage has been removed. The capacitor voltage quickly drops though, so less and less current flows through the Base.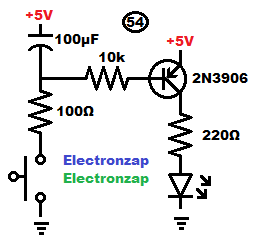 Transistor and LED is on fully while switch is closed. The resistor in series with the LED sets the current. Capacitor quickly charges fully.
Opening the switch makes it so the capacitor has to provide the base current, as the capacitor's voltage drops, current drops. The collector will only pass about 200 to 300 as much current as the capacitor can provide. As Base current gets closer to 0 amps, the Collector current (and thus the current through the LED) gets closer to 0A even though it remains 200 to 300 times as much as the Base current.

I got my 2N3906 (and many other transistor and diode semiconductors) from the Joe Knows Electronics Semiconductor kit that I posted a link to above. Clicking on an Amazon affiliate link before making any purchase supports this page at no extra cost to you.

Good links to check out next:
 To support this site, check out the following links:
Information on this site is not guaranteed to be accurate. Always consult the manufacturer info/datasheet of parts you use. Research the proper safety precautions for everything you do.
Electronzap is a participant in the Amazon Services LLC Associates Program, an affiliate advertising program designed to provide a means for sites to earn advertising fees by advertising and linking to amazon.com.