Potentiometers have a relatively long resistive element with terminals on each end. There is also a third terminal connected to a wiper that slides along that resistive element.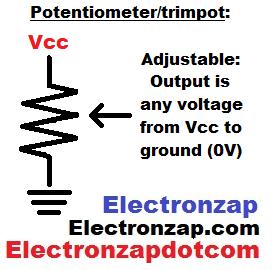 You can get a variable resistance from one of the terminals to the wiper. Or you can apply a voltage at both end terminals, and get a variable divided voltage at the wiper. The voltage out can be anywhere from what one terminal is, to what the other the other one is. Usually 0V ground (negative supply) and Vcc (positive supply) are used.
Smaller potentiometer which are mostly used for a weak signal voltages, are known as trimmer potentiometers, or trimpots for short.
Multi turn trimpots I bought, and used in some videos. And affiliate link ad.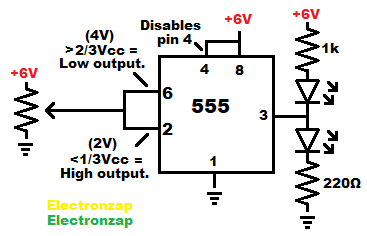 The 555 timer integrated circuit has inputs that respond to 1/3 and 2/3 of the supply voltage when pins 2 and 6 are connected to each other.
Putting the supply voltage across a trimpot, and setting the the wiper to 2/3 or more of the way to the positive supply, will give pin 6 a high input. That sets the output low.
Whereas, the trimpot set to 1/3 or less of the supply voltage, will give a low input to pin 2. Setting the output high.
In this diagram and video, 2/3 of the 6V supply is 4V. Whereas 1/3 of the supply voltage is 2V.
Check out one of these links next:
 To support this site, check out the following links:
Information on this site is not guaranteed to be accurate. Always consult the manufacturer info/datasheet of parts you use. Research the proper safety precautions for everything you do.
Electronzap is a participant in the Amazon Services LLC Associates Program, an affiliate advertising program designed to provide a means for sites to earn advertising fees by advertising and linking to amazon.com.