Bright LED lights commonly turn on and off rapidly in order to adjust their brightness as far as the human eye is concerned. Our eyes can not detect that they are turning on and off, but many light level sensors can. A capacitor between the output and ground, will slow down voltage changes.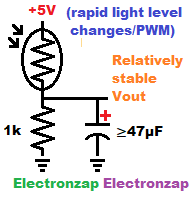 Become a Patron!
If the LDR voltage divider is rapidly changing voltages and the capacitor value is large enough, then a middle ground voltage will build up across the capacitor, and the capacitor voltage will barely change.
Good topics to check out next:
 To support this site, check out the following links:
Information on this site is not guaranteed to be accurate. Always consult the manufacturer info/datasheet of parts you use. Research the proper safety precautions for everything you do.
Electronzap is a participant in the Amazon Services LLC Associates Program, an affiliate advertising program designed to provide a means for sites to earn advertising fees by advertising and linking to amazon.com.