Photodiodes set a certain amount of current based on how much light is falling on them. Capacitor voltage rises is based on how much current is flowing into it and it's capacitance. A steady current flowing into the capacitor will rise it's voltage steadily. So, as long as the light level stays constant, the capacitor will charge at a steady rate, and you will see a voltage ramp (steady voltage rise over time) when measured with an oscilloscope.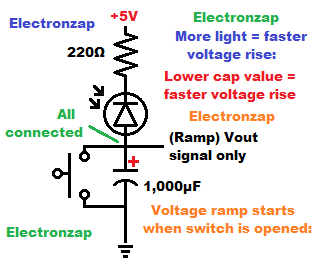 Oscilloscope used in the following video. Clicking an Amazon affiliate link before making any purchase supports this site at no extra cost to you.
Photodiode sets a certain amount of current based on how much light is falling on it. It is basically a light dependent current source while reverse biased.

Brighter light on photodiode = more current and a faster capacitor voltage rise.
Less light on photodiode = less current and a slower capacitor voltage rise.

A steady current flowing into a capacitor will steadily raise it's voltage (a ramp). Lower value capacitors will have a faster voltage rise while a larger value capacitor's voltage will rise more slowly when the same amount of light is falling on the photodiode. Capacitors can be put in parallel to add up their capacitance if needed.
Since I am using a 5V supply, I added a series 220Ω resistor to set a maximum current. That resistor just makes sure that the current never exceeds 5V/220Ω = 0.0226A (22.7mA). As long as the photodiode keeps the current below that, the series resistor won't limit current any more than the photodiode sets it to.
Pressing the normally open push button switch closes it and instantly discharges the capacitor to zero volts. When the push button is released (opened), that will restart the voltage rise. Once the capacitor's voltage is about equal to the supply voltage, the capacitor's voltage will level off until the button is pressed again.
Links to next topics:
555 timer. I believe will be most fun to learn about next. Page will be created later. Or you can check out
Op amps. Can make all kinds of practical circuits especially when combined. Page will be created later. Or you can check out 
 To support this site, check out the following links:
Information on this site is not guaranteed to be accurate. Always consult the manufacturer info/datasheet of parts you use. Research the proper safety precautions for everything you do.
Electronzap is a participant in the Amazon Services LLC Associates Program, an affiliate advertising program designed to provide a means for sites to earn advertising fees by advertising and linking to amazon.com.