Voltage regulators set a lower voltage than the supply voltage across a load. All of that extra supply voltage builds up across the voltage regulator. Therefore, that is power that is lost in the form of waste heat.  So, for higher demand loads, you are probably better off with a buck converter.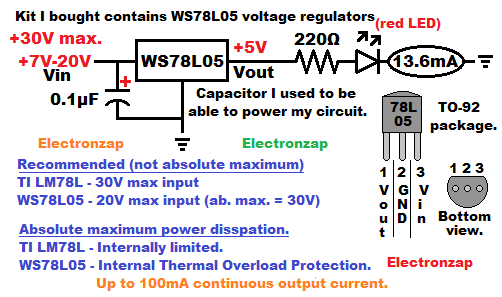 If you just want to light an LED at a steady five volts while the higher supply voltage changes, then you could use the 78L05 to set 5V across the LED and it's protective resistor. The 78L05 is a smaller version of the 7805 integrated circuit.
Video below goes live at 6AM CST 17 May 2023
7800 or 78xx is a series of integrated circuits that outputs a positive voltage in relationship to 0V ground which is powered by a higher positive supply voltage. The 7900 series voltage regulator ICs output a negative voltage in relationship to ground from a more negative supply voltage. It's good to have the supply voltage at least 2V more positive (or negative for 7900 series IC) than the voltage regulator's output voltage.
The last 2 numbers of the 7800 series (and 7900 series IC) part number, is the voltage that will be output. The supply voltage should be at least 2V higher (or lower for 7900) than that.

7805 outputs 5V. 78L05 is a smaller version that can't provide near as much power.
7809 outputs 9V. 78L09 is a smaller version that can't provide near as much power.
7812 outputs 12V. 78L12 is a smaller version that can't provide near as much power.
Good topics to check out next:
 To support this site, check out the following links:
Information on this site is not guaranteed to be accurate. Always consult the manufacturer info/datasheet of parts you use. Research the proper safety precautions for everything you do.
Electronzap is a participant in the Amazon Services LLC Associates Program, an affiliate advertising program designed to provide a means for sites to earn advertising fees by advertising and linking to amazon.com.