The 2N2222 can handle the current needs to switch a 5V 1W LED module that I have. The LED module produces over 250mA of current when it is connected directly to a power supply, and a 2N2222 NPN BJT can switch a maximum of 600mA of current.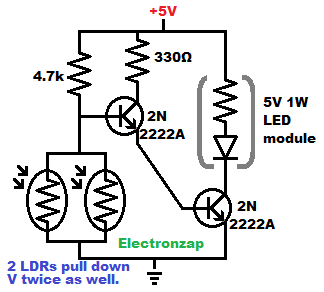 Trying to switch a 2N2222 with light dependent resistor (LDR) voltage divider in order to make a night light circuit  present a challenge that must be overcome.
Don't use a 2N3904 or similar NPN BJT in this circuit. Their max collector current (Ic) is only 200mA.  
A lot more base current is needed to saturate the 2N2222 NPN BJT than a LDR voltage divider can provide.
Therefore, I added another 2N2222 NPN BJT to the base of the switch 2N2222. The LDR voltage divider signal can turn the first 2N2222 NPN BJT on, which will allow a lot more current to flow into the seconds 2N2222 that switches the LED on and off.
The 330Ω collector resistor will limit current to a bit less than 15mA of current. Remember that the base to emitter of the second transistor will drop about 0.7V. Leaving about 4.3V across the resistor. Giving approx. 4.3V/330Ω =  0.013 (13mA) of current flowing through the second 2N2222 base to emitter, that is switching the LED on and off.
I had to use 2 LDRs in parallel on the low side of the voltage divider, to be able to pull down the voltage enough to turn the transistors off. I couldn't use a 10k resistor on the high side, because it couldn't provide enough current to saturate both 2N2222 NPN BJTs when it is dark.
Good topics to check out next:
To support this site, check out the following links
Information on this site is not guaranteed to be accurate. Always consult the manufacturer info/datasheet of parts you use. Research the proper safety precautions for everything you do.
Electronzap is a participant in the Amazon Services LLC Associates Program, an affiliate advertising program designed to provide a means for sites to earn advertising fees by advertising and linking to amazon.com.