The photodiode that looks like an LED acts like a light dependent current source when wired reverse biased. It limits current through it and series components based on how much light is falling on it, regardless of voltage as long as their is enough to provide that amunt of power.
Note: The BPW34 silicon PIN photodiode acts more like a mini solar panel.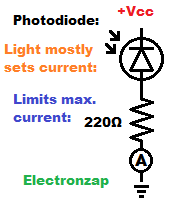 The amount of current that a photodiode will let flow through it is determined by how much light is falling on it. I add a series resistor based on the voltage I will apply to reduce the chance that the photodiode will exceed it's wattage rating. The series resistor shouldn't change the current if the resistor is a low enough value.
BPW34 photodiode videos:
Links to next topics:
555 timer. I believe will be most fun to learn about next. Page will be created later. Or you can check out
Op amps. Can make all kinds of practical circuits especially when combined. Page will be created later. Or you can check out 
To support this site, check out the following links:
Information on this site is not guaranteed to be accurate. Always consult the manufacturer info/datasheet of parts you use. Research the proper safety precautions for everything you do.
Electronzap is a participant in the Amazon Services LLC Associates Program, an affiliate advertising program designed to provide a means for sites to earn advertising fees by advertising and linking to amazon.com.