A 5V 1W (five volt, one watt) LED component is a bright white LED on a heat sink with a current limiting resistor. All you have to do is apply 5 volts to get it to light up. The resistor on the heatsink with the LED is what limits the current. You can use a lower voltage, the LED will be less bright, but will need to use at least approx. 2.5V to overcome the minimum forward voltage of the LED.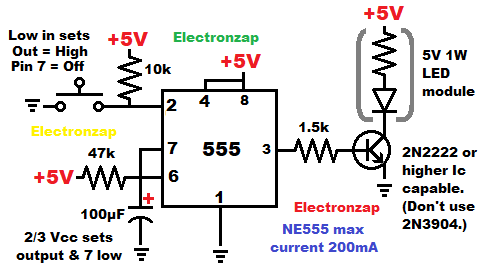 There's a couple soldering pads for attaching wire to the positive and negative terminals of the 5V 1W LED component.
The 5V 1W LED will pass about 300mA of current through it when powered with 5V. Therefore you should use a transistor that can switch at least 600mA max. current, such as the 2N2222 NPN BJT, or 2N2907 PNP BJT. The 2N3904 NPN BJT and 2N3906 PNP BJT can only switch a max of 200mA of current.
Good topics to check out next:
 To support this site, check out the following links:
Information on this site is not guaranteed to be accurate. Always consult the manufacturer info/datasheet of parts you use. Research the proper safety precautions for everything you do.
Electronzap is a participant in the Amazon Services LLC Associates Program, an affiliate advertising program designed to provide a means for sites to earn advertising fees by advertising and linking to amazon.com.