Comparator circuits respond to when a changing voltage (signal) crosses a specific reference voltage. The Op Amp wired as a comparator, or comparator only components do so by changing the voltage at their output.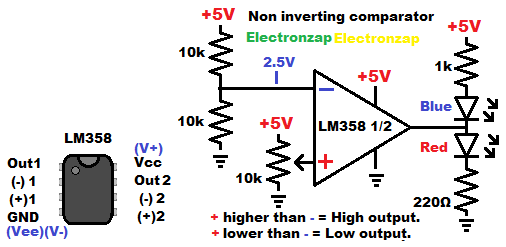 You can easily tell if a signal voltage is higher or lower than half of the supply voltage by connecting a voltage divider made up of 2 equal value resistors, to the non inverting (-) input.
When the signal voltage (set by a trimpot in this circuit) is set to output a higher voltage than half (2.5V) of the supply voltage (5V), then the output will be high. Probably close to 4V with no load, because the LM358 is a single supply op amp instead of a rail to rail.
On the other hand, when the signal (trimpot) voltage is set to a lower voltage than the 2.5V reference voltage in this circuit,  the output goes low. It should connect to 0V ground really well since it is a single supply op amp instead of a dual supply op amp.
Simply put, when it comes to the non inverting comparator circuit…
Higher signal V (than reference V) = High output.
Lower signal V (than reference V) = Low output.
Op amp and comparators have high impedance inputs. That means they don't let any current in or out of them, other than a miniscule amount that leaks through. That leakage is usually so small that it isn't noticeable unless the signal is extremely weak. The inputs just look at the voltage that is applied to them.
Links to good topics to check out next:
To support this site, check out the following links:
Information on this site is not guaranteed to be accurate. Always consult the manufacturer info/datasheet of parts you use. Research the proper safety precautions for everything you do.
Electronzap is a participant in the Amazon Services LLC Associates Program, an affiliate advertising program designed to provide a means for sites to earn advertising fees by advertising and linking to amazon.com.