Signal voltages tend to be too weak to power any load. Op amp followers are good for powering low power circuits at the voltage set by the signal.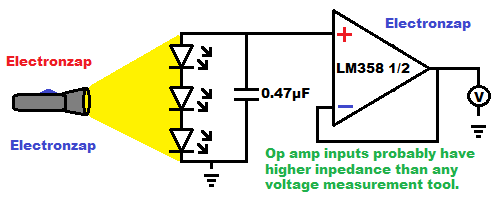 Shining light on LEDs actually causes them to generate a little voltage. They make tiny solar cells.
Those voltages add up when LEDs are in series, and all of them have the same amount of light falling on them. If any of them don't have light on them, they cut all current, and voltage.
The voltage of LEDs with light on them is very weak.  Hardly any current can be moved at all. You'll need amplifier circuitry to if you want to power anything at that voltage level.
Since the op amp output voltage goes up when the non inverting (+) input voltage is higher than the inverting (-) input voltage. and down when the (+) input voltage is lower than the (-) inut voltage, by connecting the output directly to the (-) input will mean that the output voltage will go right to being the same voltage as what is at the (+) input.
Negative feedback (output voltage fed back to the (-) input) makes it so that the output voltage will rise or fall as needed to make the (-) input voltage the same as the (+) input. That is a basic property of ops amp, which is used in most op amp circuits.
Good pages to check out next:
 To support this site, check out the following links:
Information on this site is not guaranteed to be accurate. Always consult the manufacturer info/datasheet of parts you use. Research the proper safety precautions for everything you do.
Electronzap is a participant in the Amazon Services LLC Associates Program, an affiliate advertising program designed to provide a means for sites to earn advertising fees by advertising and linking to amazon.com.