How well a MOSFET transistor conducts between it's Drain and Source pins is determined by the voltage at it's Gate pin.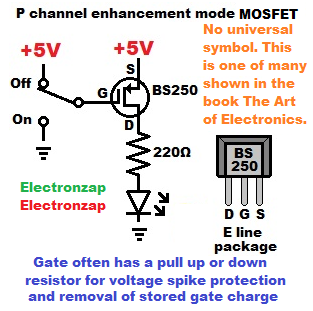 The P channel enhancement mode MOSFET needs a low enough Gate voltage in order for it to conduct from Drain to Source. That is when the transistor is considered as being turned on. And that is when the load from Drain to ground will be powered.
In the simplest switch circuit, you can just connect the Gate directly to the negative supply, which is also powering the load on the drain side of the circuit in order to get the P channel enhancement mode transistor's Source to Drain to conduct as well as it can. That is when the load is powered.
Preventing conduction of the P channel enhancement mode MOSFET from Source to Drain is most easily done by connecting the Gate directly to the positive supply. The series load will also be off at that time.
No current flows in or out of the Gate. Although, a small amount of current does move briefly while the gate's charge changes. Therefore you can connect the Gate directly to a supply voltage. But it is better to have a series resistor or either a pull up or pull down resistor to help avoid a voltage spike that could fry the Gate. Your body has the potential to build up enough static charge to fry many MOSFET based components and integrated circuits.
Good topics to check out next:
 To support this site, check out the following links:
Information on this site is not guaranteed to be accurate. Always consult the manufacturer info/datasheet of parts you use. Research the proper safety precautions for everything you do.
Electronzap is a participant in the Amazon Services LLC Associates Program, an affiliate advertising program designed to provide a means for sites to earn advertising fees by advertising and linking to amazon.com.