Photodiodes allow current to pass through them based on how much light is falling on them. While reversed biased, the more light that falls on a photodiode, the more current that it allows to pass through it.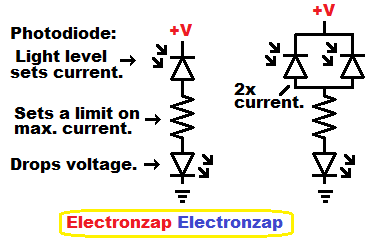 A series resistor will limit how much current can flow, but the photodiode will be what sets the current up to that limit. It must be kept in mind that the current limit set by a resistor alone will depend on the supply voltage minus any voltage drops of other series components. and the resistance of the resistor (Ohms law).
Having 2 photodiodes in parallel, both reversed biased of course, will allow twice as much current to flow for a given amount of light. That is of course if the same amount of light happens to fall on both of them. They can easily point away from light sources, and end up not receiving much of the light.
The photodiodes in the affiliate link ad above have mostly good reviews and probably act like the ones used in my video but are a bit larger. Some reviewers mentioned that they are actually phototransistors, which I suspect is true based on what they said, and my earlier testing of the photodiodes that I bought elsewhere, and have gotten the same results that they did.  Regardless, I will still call them photodiodes for now since that is what they are being sold as and I can't prove that they aren't at this time.
Check out these links!
Make sure to subscribe and ring the bell! from r/ElectronicsStudy
Information on this site is not guaranteed to be accurate. Always consult the manufacturer info/datasheet of parts you use. Research the proper safety precautions for everything you do.
Electronzap is a participant in the Amazon Services LLC Associates Program, an affiliate advertising program designed to provide a means for sites to earn advertising fees by advertising and linking to amazon.com.