Op amps have an output whose voltage is controlled by the voltages at 2 inputs.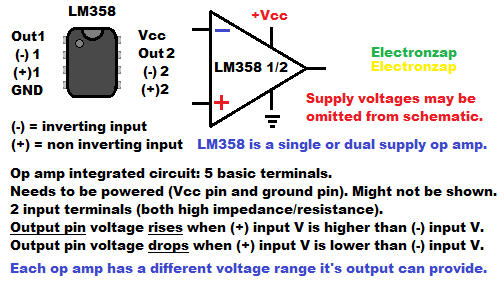 2 inputs determine the output voltage

Inverting input
Non inverting input

Inputs just look at voltage. No current goes through them other than a tiny bit of leakage.
Assorted integrated circuits (ICs) kit. It is an Affiliate link ad that supports this channel.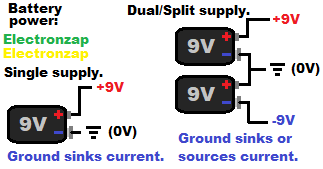 Output voltage of an op amp goes up if the non inverting input voltage is higher than inverting input. Whereas output voltage goes down if non inverting input is lower than inverting input voltage.

Each op amp has a limit to how much of the supply voltage that it can output and also to how much current it can provide. Make sure the one you are using can meet your power needs.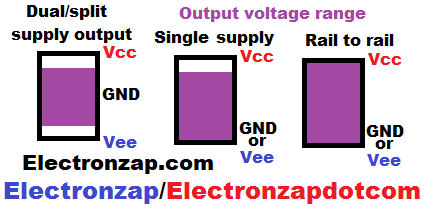 Dual supply op amp: Output falls short of either supply voltage. Operates best with a dual/split power supply, where there is a positive and negative voltage in relationship to ground.
Single supply op amp: Output generally falls a volt or 2 shy of the positive supply, but can output the negative supply voltage. That is either the 0V ground in single supply circuits, or whatever the negative voltage is in relationship to 0V ground for a dual/slit supply. However, a load that needs current may still prevent the output voltage from going all the way to the negative supply.
Rail to rail: Output voltage goes all the way to both supply voltages (positive and negative). Loads that need current might still prevent the output from getting all the way to either supply rail (positive and/or negative) voltage.
Output provides a limited amount of current. Some Op amps can provide more current than others. There is probably output short circuit protection. Always consult the datasheet for the specifics of the particular op amp you are interested in.
Feed back sends some or all of the voltage from the output back to one or both inputs. Doing so helps make the input voltage(s) closer to what the output voltage is. This is how you can prevent the output from simply jumping right to either the positive or negative supply voltages as it can go.
To support this site, check out the following links:


Art of electronics is easily my favorite learning electronics book. It helps to already be familiar with basic electronics while studying it. It inspires many of my demonstration circuits. An affiliate link ad that supports this site.
Information on this site is not guaranteed to be accurate. Always consult the manufacturer info/datasheet of parts you use. Research the proper safety precautions for everything you do.
Electronzap is a participant in the Amazon Services LLC Associates Program, an affiliate advertising program designed to provide a means for sites to earn advertising fees by advertising and linking to amazon.com.