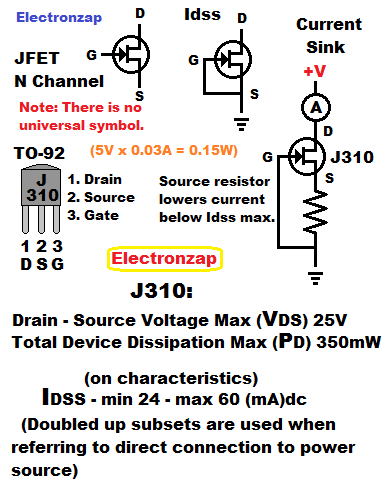 Junction Field Effect Transistors (JFETs) are commonly used as a current source/sink.
Connecting the gate directly to the source provides the Idss. Which is the maximum current that a particular JFET will allow to flow through it.
A resistor between the gate and source will lower the amount of current based on the Idss and the amount of resistance used.
JFETs come in N channel and P channel. The J310 is relatively common N channel JFET.
N channel gate arrow points into the component schematic, whereas the P channel JFET schematic symbol points out of the schematic symbol.
Video:
To support this site, check out the following links:
Information on this site is not guaranteed to be accurate. Always consult the manufacturer info/datasheet of parts you use. Research the proper safety precautions for everything you do.
Electronzap is a participant in the Amazon Services LLC Associates Program, an affiliate advertising program designed to provide a means for sites to earn advertising fees by advertising and linking to amazon.com.